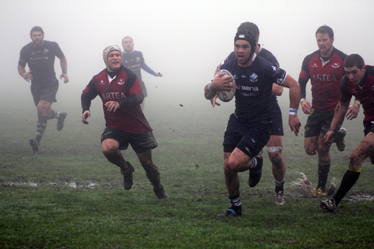 O Blusens Universidade de Vigo levou hoxe unha traballada vitoria ante o Getxo Artea RT nun partido que comezou gañando dende os primeiros minutos cando Jeremy Simon, o sábado pateador do equipo pasou o primeiro golpe de castigo aos 10 minutos. Unha nova cara do equipo vigués que consolida o seu xogo dos últimos partidos e no que todos souberon estar concentrados dende o principio, cometendo poucos erros.
Nun partido no que se acabou xogando nas 22 visitantes, máis cerca o Blusens Universidade de Vigo do cuarto ensaio, que o Gexto da remontada, a pesar que o intentaba dende todos lados co xogo á man, o equipo vigués puido acabar gañando con máis tranquilidade que o que reflicte o marcador. O pateo estivo a cargo de Jeremy Simon, que o fixo con solvencia, contrarrestando o xogo dirixido polo sobresaínte apertura neozelandés dos vascos, Linklater, que fallou un só disparo a paus. A touche foi unha arma importante para os vigueses, con Mariano Berlande como un dos xogadores destacados do partido, gañando as propias e roubando dous aos vascos. A liña realizou xogadas que rompían a defensa do Getxo, mentres que a dianteira gañaba metros co pick and go, co que a punto estivo de pousar para lograr o ensaio en ata 3 ocasións, ben defendidas pola visita.
Ao descanso chegaríase con marcador empatado de 13 a 13, tras un ensaio transformado máis 2 golpes pasados por bando. Na reanudación o Blusens Universidade asfixiaría os getxotarras no seu campo, que ensaiaría por unha patada bloqueada ao apertura Nathan George, nunha acción que non levaba perigo, e nunha xogada por unha das bandas. O Blusens ensaiaría tras un pick and go logo dunha touche, a través de Maka Tatafu, e nunha bonita xogada ensaiada da liña na que participaron algúns dianteiros, finalizada por Lewis Marshall, pousando así o seu segundo ensaio do partido.
A néboa por momentos non deixaba ver o que pasaba no lado oposto do campo pero o público entusiasmado apoiaba o seu equipo ata o final, cando o árbitro Raposo decretaba a conclusión do partido, tras unha acción de picardía da defensa do Blusens Universidade forzaba un avant do medio loita getxotarra, cando se ían á desesperada a polo partido. O Blusens Universidade, á espera do que pase no partido entre Santboi e Hernani en Barcelona, afástase a 7 puntos do Ciencias Cajasol, que caeu ante Ordizia por 20 a 7, e permítelle avanzar ata a novena posición momentaneamente.
O próximo partido o Blusens Universidade de Vigo será o próximo sábado 1 de febreiro en horario non habitual das 13.30 h novamente en As Lagoas Marcosende, ante o Atlético de Madrid Rugby.
Blusens Universidade de Vigo 26: David Redondo, Vicente Prieto ©, Maka Tatafu, Carlos López Marqués, Mariano Berlande, Sam Hayes, Javier Abadía, Alejandro Blanco, Joaquín Maguna, Nathan George, Jeremy Simon, Carlos de Cabo, Javier Parga, Adolfo Rodríguez uruburo, Lewis Marshall. Suplentes: Marcos Muñiz, Juan Manuel Rodríguez, Jorge Barbudo, Victor Salgado, Rubén Rodríguez, Borja Vera García-Portillo, Daniel Vázquez Aldemunde e Daniel Fuentes.
Getxo Artea RT 25 (b): Daniel Barlow, Iker Lavin, Bittor Aboitiz, Peio Landaburu, Gregorio Zabaloy, Iñigo Lugaresaresti, Iñigo Calvo, Beñat Lavin, Unai Pérez, Bradley Linklater, Indar Zaballa, Iñigo Álvarez, Simeon James, Gorka Gomatz, Jorge Rodríguez. Suplentes: Ibon Coria, Daniel Snee, Santi Pérez de Ciriza, Jon Uriarte, Michel Etxeandía,  Alain Recro, Zabala e Jaime Toña.
Tanteador:
Min 10 golpe de castigo de Simon, 3 a 0
Min 13 golpe de castigo de Linklater, 3 a 3
Min 15 ensaio de Lewis, transformado por Simon, 10 a 3
Min 28 golpe de castigo de Linklater, 10 a 6
Min 30 golpe de castigo de Simon, 13 a 6
Min 35 ensaio de Linklater transformado por él mismo, 13 a 13
Descanso
Min 48 ensaio de Rodríguez, 13 a 18
Min 53 golpe de castigo de Simon, 16 a 18
Min 56 ensaio de Tatafu, 21 a 18
Min 60 ensaio de Snee, transformado por Linklater, 21 a 25
Min 67 ensaio de Lewis, 26 a 25
Incidencias: unas 300 personas en As Lagoas a pesar de las inclemencias del tiempo. El árbitro Raposo enseñó tarjeta amarilla a rodríguez por juego antirreglamentario.
Foto: Diego Dolan, en el momento previo del ensaio de Lewis.